#WhereTheDesertMeetsTheSea
Sailing Desert Adventure - Full Day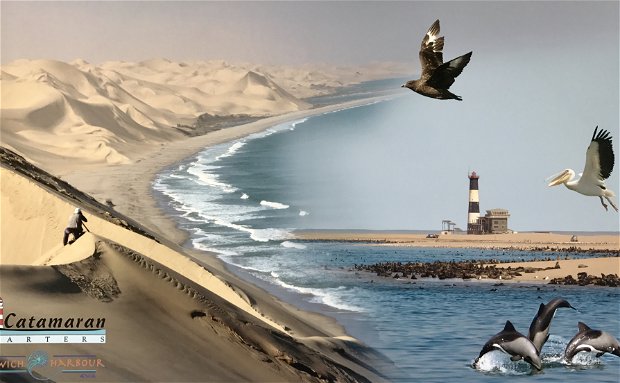 The Sailing Desert Adventure provides the ultimate combination of viewing our marine life on a leisure sailing cruise on the Atlantic Ocean and exploring our fauna and flora with a ride in the breathtaking Sandwich Harbour Area of the Namib Naukluft Park.
We set sail daily between 08h45 and 09h00 (check-in 08h30) every morning with our sister company Catamaran Charters from our Jetty at the Walvis Bay Waterfront for a marine educational sailing excursion in the bay area in search of the Marine Big 5:  Whales, Dolphins, Mola, Leatherback turtle and seals.  While serving hot coffee and tea, our initial route takes us past oyster farms as we approach Pelican Point with its landmark lighthouse and 60,000 resident Cape Fur Seals. 
In season (July to November), larger mammals such as the Southern Right Whale and Humpback Whales are often spotted, while other whale species, such as the Gray whale and the Pygmy Right whale have made appearances.   Bottlenose, Heaviside and Dusky dolphins are regularly seen, as are Sunfish and Leatherback Turtles.  Accompanying our four sailing catamarans throughout are a variety of seabirds, such as the Kelp Gull, Hartlaub's Gull, Pelicans, Skua and Cape Cormorant. 
We hoist the sails of our four sailing catamarans whenever possible, switch off the engines and let our guests experience true sailing.  Guests can even help in putting up the sails and rigging the ropes.                 
Our journey from Pelican Point takes us past some of the more interesting ships and oil rigs in the bay as we serve fresh oysters with sparkling wine, savoury snacks and desserts together with light drinks, cooldrinks and water.  We return to the Waterfront at about 12h30, where your Sandwich Harbour 4x4 guide will meet you for your afternoon Sandwich Harbour excursion. 
After a short break at the Walvis Bay Lagoon to see masses of flamingos, the drive initially takes us to the Kuiseb river delta, a dry riverbed where the odd springbok may still be seen.  We are the only activity operator allowed to access this area as it forms part of the Kuiseb Delta Concession which was awarded to us in 2019.  If weather and tides allow, we will drive right to the Sandwich Harbour Lagoon, one of Southern Africa's richest and unique wetlands and one of five  RAMSAR sites (Ramsar site no. 743) in Namibia. 
Sandwich Harbour boasts two distinct wetlands and associated mudflats.  One is aquifer-fed and supports typical emergent vegetation, but is slowly disappearing due to natural causes. The second, under tidal influence, consists of mudflats and raised shingle bars.  Wedged between the sea and the Namib Dunes, it is one of Namibia's most important coastal wetlands, supporting eight endangered species among the large numbers of wading birds.  Several archaeological sites dating back 1,000 years exist within the site.  Human activities have included fishing, guano collection, and hunting. The site is used for scientific research, with surrounding areas used for tourism, recreation, and angling.
If our vehicles cannot drive all along the beach to get to Sandwich Harbour because of high tide, you will get a chance to see the lagoon area from one of our many beautiful lookout spots and will have the time to walk and explore.  We have lots of time to stop along the way for photography.
When it becomes time to enjoy something to eat, your guide simply finds a suitable place to stop and serves a selection of oysters and snacks with sparkling wine, beers and cooldrinks.  We usually do this on top of a high dune overlooking the Atlantic Ocean, or on the beach. 
The route homewards will take us past the area's typical fauna and flora.  Animals which have developed ways to adapt to the desert include the black-backed jackal, fog-basking beetle, dancing spider ('white lady of the Namib'), golden mole, shovel-snouted lizard, palmato gecko, springbok, oryx, brown hyena and ostrich.       
No less spectacular is the iconic fruit of the Namib desert, the !Nara melon. This leafless plant with its long tap root (up to 15 meters) has been an important part of the ǂAonin people's diet, key to their survival in the area for more than a century and still to this day is the only local plant that is utilized commercially.
We return to the Walvis Bay Waterfront at around 16h30.