Photographical Adventures
Sundowner Photography Excursion - Sunset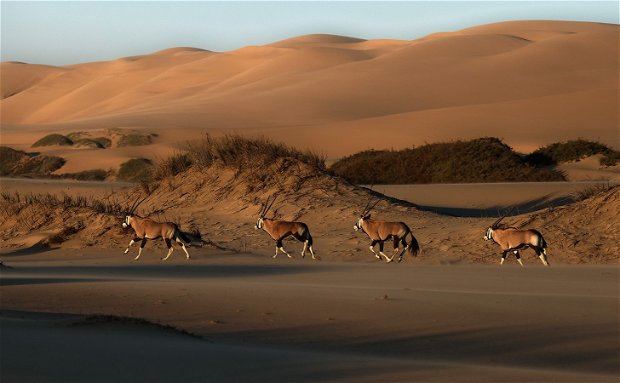 The desert is any photographer's ultimate dream and nightmare all rolled into one. Whilst the landscapes are breathtaking, the conditions can be quite challenging. Let us ensure you get the most joy from photographing our beloved desert with spectacular results.
Join our daily sundowner and photographic excursion at the following time:
* Summer (1 September - 30 April) : 16h00 (check-in at 15h45), returning at 20h00.
* Winter (1 May - 31 August) : 15h00 (check-in at 14h45), returning at 19h00.
Early morning photography departures on request.
Let us take you to the most spectacular sceneries enabling you to capture interplay between light and shadows in the dunes, as well as the sun setting behind the Atlantic ocean at Sandwich Harbour. Departing from the Walvis Waterfront, the drive initially takes us to the Kuiseb river delta, a dry riverbed where the odd springbok, oryx or jackal may be spotted. As this area forms part of our Kuiseb Delta Concession, we are the only activity operator allowed to access this area.
If weather and tides allow, we will drive right to the Sandwich Harbour Lagoon along the beach, one of Southern Africa's richest and unique wetlands and one of five RAMSAR sites (Ramsar site no. 743) in Namibia. Sandwich Harbour boasts two distinct wetlands and associated mudflats. Wedged between the sea and the Namib Dunes, it is one of Namibia's most important coastal wetlands, supporting eight endangered species among the large numbers of wading birds. If our vehicles cannot drive all along the beach to get to Sandwich Harbour because of high tide, you will get a chance to see the lagoon area from one of our many beautiful lookout spots and will have the time to walk and explore. We have lots of time to stop along the way for photography.
When the sun has set and the light has diminished, we find a suitable place to stop and serve a selection of oysters and snacks with sparkling wine, beers and cooldrinks. We usually do this on top of a high dune, between the dunes or on the beach. We will be returning at around 20h00.
Camera care:
Even on a mild day, the desert can be dusty. Bring a cleaning kit to wipe down dust once the day is over. Leave your lens cap on until right before you take the photo. That helps a little to reduce dust collecting on the front-end of the lens. It is advisable not to change lenses out in the open or on a dune where the wind and dust can get to you. Rather do it in the car or inside a bag if you have to, to avoid exposing your sensor to dust. Even the best quality zoom lenses get grit and dust in them, so it may be best to bring along a dustcover for such lenses. Use the time in the car to blow dust from lenses and don't forget to clean your lens cap!
Please note, it is extremely difficult to access camera cleaning services anywhere in Namibia. Protect your camera at all times, and don't take unnecessary risks with the extreme elements. It is a sure way to ruin what could have been the photographic opportunity of a lifetime.
Lenses:
Every photographer has his or her favourite lens or collection of lenses. As the choice of lens depends greatly on local conditions and the nature of what you'd like to photograph, photographers like to come prepared. Yet, there is never enough space, and no one wants to struggle up and down the dunes with a heavy bag filled with unnecessary kit. Versatility is key. Depending on the type and quality of your lens, it may, or may not have image stabilization build in. In these often-extreme conditions image stabilization is a definite advantage.
For those interested in landscape photography we recommend a lens in the 16-35mm range. Although the landscape is ideal for shooting panoramas, the winds on top of the dunes (and there is almost always wind up there) presents serious challenges.
For the wildlife shots a shorter zoom lens such as the 70-200mm or 70-300mm would be ideal. The addition of an extender or extension tube (1.4x or 2.0x) could also be helpful especially if you are looking to photograph birds. At least they do not take up much space and they are light to carry around.
Once you come face to face with a little a palmato gecko or a dancing white lady spider, you are going to need a lens with a very close focusing distance. For photographing the little wonders of the desert (and there are many of them) nothing beats a macro-lens. Something in the range of 100mm is ideal.
Filters:
Filters are not an absolute necessity, but they do make a substantial difference to the quality of your photographs. In addition to the UV filter(s) you may already use to protect your lens, we recommend bring a circular polarizer filter to help reduce glare and increase saturation in your images. For more serious photographers we recommend one or more ND and ND Grad filters especially because you are going to be faced with extreme and hard natural light that leads to blown out skies and rather flat images. Screw-type filters may be best simply because they are easier to operate and less fragile than detachable glass filters. Make sure your filters are protected at all times as the conditions are harsh and the drives bumpy.
The ultimate advice we can provide is that you should bring the equipment that you know and trust. We'd happy to stop where possible for you take photographs. Most important of all, we want you to enjoy your photography in our unique and very picturesque arid land.