Shipwrecks & Diamonds (3 Days)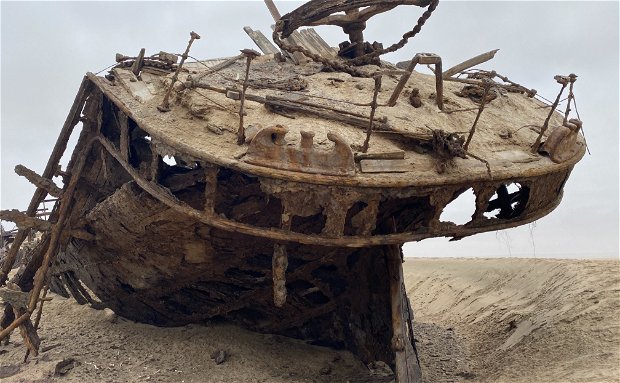 This three-day adventure provide the experiences of driving through some of the most spectacular dune areas, overnighting in a tented camp close to the ocean, viewing two shipwrecks, visiting areas of great historical interest and see untouched sceneries, fauna and flora.
We depart Walvis Bay on day 1 at 09h00.  Heading South we pass through the Kuiseb Delta on our way to Sandwich Harbour.  We proceed southwards on a route through the dunes and along the beach, stopping at various spots along the spectacular Sandwich Harbour lagoon.  We pass historical Topnaar cultural sites and drive on narrow stretches of beach where the majestic dunes of the Namib desert roll into the sea. 
Namibia's coast's rough seas, roaring winds and strong ocean currents are primarily responsible for a number of shipwrecks strewn along the Namibian coast.  One of these is the Shawnee, a transport tug that ran aground in mysterious circumstances on 6th February 1976.   Now wedged on a narrow stretch between the ocean and the dunes, it is home to a variety of seabirds and black-backed jackals.   
We spend some time at this wreck and also enjoy a lunch here.
From here we make our way along the beach or through the majestic dune belt (depending on tides and weather) until we reach the wreck of the Eduard Bohlen, which hit a sandbank 500 metres from shore near Conception Bay on 9th September 1909 and lies now about 400m inland.   This 310 foot, 2,272 tonne ship was travelling from Swakopmund in Namibia to Cape Town.
After a refreshing stop we make our way to our overnight stay at Meob Bay via Conception Bay.  It is here that we will overnight for the next two nights.  Accommodation will be in tents.  We will sit under the stars gazing at the universe, while our guides will prepare dinner over a fire.  This may include freshly caught fish from the area.
Early after breakfast on day 2 we will depart to visit Fischersbrunn, a source of fresh water during the diamond rush at the beginning of the last century.  Our excursion further takes us to Meob Bay, which served as a landing site for persons and equipment during the diamong rush at the beginning of the last century.  Many relicts from that time can still be observed.
We proceed for 7km along the beach and then head inland to visit the – now abandoned - mining settlements of Grillenberger, Charlottenfelder and Holsatia.  The discovery of diamonds in 1908 around Kolmanskuppe resulted in an uncontrollable diamond rush forcing the Government to establish a no-entry area, the "Sperrgebiet", between 26-degree S and the southern border of the country, stretching 100-kilometer inland. Prospectors were forced to turn northwards beyond the Sperrgebiet. This resulted in the discovery of diamonds at Spencer Bay in December 1908 and between Meob and the Conception Bay area (Diamond area no 2).    In the area between Conception Bay and Meob Bay the mining settlements of Holsatia, Charlottenfelder and Grillenberger were established and no form of engine-driven transport was available during the first 15 years. One sample of an oxwagen fitted with special wide iron bands to make transportation in sandy areas is visible north off Grillenberger.
In November 1914 all persons in this area were requested to stop operations and to proceed to Swakopmund up country. This order came as a result of an expected invasion of allied troops.
From here we proceed to Conceptionwater, which served as another source of fresh water for the three mining settlements, and also boasted a customs office and police station which now serve as a small museum.
After a long day of exploring the abandoned mining settlements and surrounding area, we head back to Meob overnight camp for the night.  Dinner is again prepared over the fire.
We commence our homeward journey during the morning of day three.  Passing 'Langewand' where massive dunes end in the sea, given a very limited time span to negotiate this stretch of beach. After Langewand the trail once again leads into the dunes, circumnavigating the Salt Pans 'extensions' of Sandwich Harbour. The dunes are still getting progressively larger to offer an ever-changing new experience of ultimate dune driving.  We regularly stop for photographs along the route and take in beautiful sceneries, while spotting wild animals that have made the area's inhospitable terrain their home.
We arrive back in Walvis Bay around 17h00.